The leading Goa Real Estate consultants for Selling and Buying of Property, Flats, Apartments, Plots, Resorts, Hotels Portuguese House and Beach Lands in Goa.

All prices listed on our website are direct owner, builder rate.

Buy Goa Property at 0% commission on new properties & 1% commission on Resale Properties in Goa.
WE CHARGE
1%
COMMISSION
*
* We charge 1% commission on new properties directly from the builders & 1% commission on Resale Properties in Goa.
BEACH PROPERTY IN GOA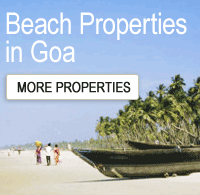 Farm House / Land Property in Goa
Goa Property ID: OR_LAN_KOR
ENQUIRE NOW

Orchard Land for sale at Korgaon (Pernem - Goa)
Area: 16000 sq. mtrs
Owner Rate: 1800/- per sq. mtr
Price: Rs. 2.88cr

Description: It is Orchard Plot. It comes to 4.5 acres of property Papers documents available Survey map etc. everything is clear. Its just 10km from Arambol and Kerim Beach. Road access available. Ideal for making plots.
Goa Property ID: FAM_DGH_3
ENQUIRE NOW

Farm property for sale at Dhargal Goa
Location: Dhargal Goa
Area: 12,000 sq.mts
Builtup Area: 250 sq. mts ( 2BHK House )
Owner Price: Rs. 3cr
Goa Property ID: FAM-P1260

Road Touch Farmhouse with plantation for sale at Savoi-Verem North Goa
Location: Savoi-Verem, Ponda, North Goa

Farm Land
Area: 12600 sq.mts

Farm House:
4 BHK Villa Ground + 1
Built up Area: 605 Sq mts

Owner Price: Rs. 2.40 cr

Description: This ia a clear Title Property with Boundary wall on all sides. The property abuts onto the Ponda-Marcel-Panaji PWD tar-road on its North and a perennial water spring on the South.A part of the land is sloping while most of the property is level and has been brought under extensive horticultural development.

Various fruit bearing trees grown on the property include about 100 Coconut trees18 year old, 1000 Areca nut10-12 year old with Black Pepper 500, and Vanilla 200 vines, 50 Banana trees, Mangos, Jack-fruits, Chickoo, Cashew nut trees, Papayas, Cinnamons, Nutmegs, Kokum, Jamun, Australian Acacia, Teak, Bamboos etc The entire cultivated area has been laid down with an extensive Sprinkler and Drip irrigation system pumped from a constructed well with ample of water source.

Amenities like Electricity, abundant water supply and public transport are readily available. The town of Ponda 11kms, Marcela 7kms and capital city of Panaji 24kms are accessible by Tar road.
Goa Property ID: FAM_RIV_350
Farm property for sale at Rivona South Goa
Location: Quepem Rivona South Goa
Area: 3,50,000 sq.mts ( 86 acres )

Owner Rate: Rs.450 per sq meter
Owner Price: Rs. 15.75 cr

Description: Property has lots of coconut trees, adn many spices, cashew tree, mango trees.
Villas / Bungalows in Goa
Quick links to Sale and Rent of Flats, Apartments, Villas, Bungalows, Houses , Farm House, land & other Properties in Goa