The leading Goa Real Estate consultants for Selling and Buying of Property, Flats, Apartments, Plots, Resorts, Hotels Portuguese House and Beach Lands in Goa.

All prices listed on our website are direct owner, builder rate.

Buy Goa Property at 0% commission on new properties & 1% commission on Resale Properties in Goa.
WE CHARGE
1%
COMMISSION
*
* We charge 1% commission on new properties directly from the builders & 1% commission on Resale Properties in Goa.
BEACH PROPERTY IN GOA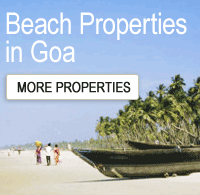 Premium Luxury Apartments in Goa
Goa Property ID: RES_PNJ_93
Luxurious 4 BHK Apartment for sale in Panjim City
Location: Panjim City - Goa.

3 BHK
Area : 280 sq.mts + 150 sqmts personal terrace
Price : Rs. 2.65 crores.

Facilities: This is a fully furnished flat located on the top floor and has lift facility. It has a beautiful view of panjim city. It is located near Mahalaxmi Temple which is centrally located in Panjim City. It is a 3BHK apartment + servant quarter with toilet bath area. The Apartment is 6 years old.
Goa Property ID: MIRCE-3APT
3 BHK Sea View Luxurious Apartment for sale at Miramar

Location: Miramar - Panjim, Goa
Area: 167 Sq.mts.
Price: Rs. 1.58cr

Description: Sea facing sixth floor (second last floor) apartment . 3 BHK fully furnished modular kitchen reserved parking. Well managed society with security and swimming pool. Sea view from drawing room and two bedrooms. The complex has easy access to major schools and colleges, restaurants, theaters and various other recreational facilities for your entertainment.
Goa Property ID: ALD-PHV
Location: Dona Paula, Goa
2BHK Appartments Available (2 Nos)
Area: 1545 Sq. ft.
Builder Price: 7500 per Sq ft.
Description: 2BHK, Attached toilet & bath, Semi furnished
Price: 1,15,87,500/- + Corpus fund at Rs.250 persq ft.
Possession by Dec 2010

3BHK Appartments Available
Area: 1988 Sq. ft.
Builder Price: 7500 per Sq ft.
Description: 3BHK, Attached toilet & bath, Semi furnished
Builder Price: 1,49,10,000/- + Corpus fund at Rs.250 per sq ft
Ready Possession

2BHK Appartments Available
Area: 1685 Sq. ft.
Builder Price: 7500 per Sq ft.
Description: 2BHK, Attached toilet & bath, Semi furnished
Builder Price: 1,26,37,500/- + Corpus fund at Rs.250 per sq ft
Ready Possession
Goa Property ID: SONAMIRA-23

2 BHK, 3 BHK Apartments ( Total sea view)
Location: Miramar - Panaji
Area: 140 -155 Sq.m
Price: Rs. 2.25cr
Description: Located 50 mts away from Miramar beach, 2 km away from Panaji and 1/2 km away from Dona Paula, has an excellent sea view of Miramar beach, parking, lift facility.
Ready Possession
Goa Property ID: LUXMIRA-DLX

LUXURY FLAT FOR SALE IN MIRAMAR - 2 Nos Duplex Flats

Location: Miramar - Panaji
Area: 260 Sq.m / 280 Sq.m
Builder Rate: Rs.1,00,000 Per Sq.m
Description: 50 mts away from Miramar beach, 2 kms away from Dona Paula and 1.8 kms away from Panjim market and 2.5 kms away from Panjim bus stand.

Ready Possession
Flats located in other parts of Goa
Villas / Bungalows in Goa
Quick links to Sale and Rent of Flats, Apartments, Villas, Bungalows, Houses , Farm House, land & other Properties in Goa